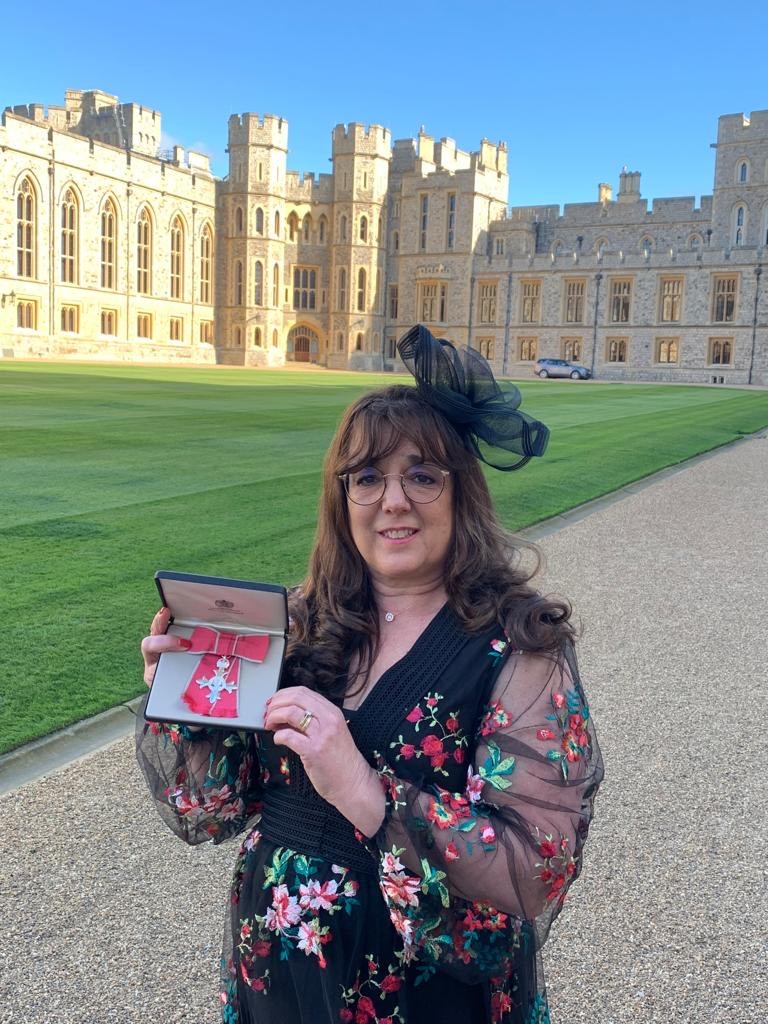 Today at Windsor Castle, JLGB Volunteer, Linda Diamond was awarded an MBE for Services to Young People 
Linda Diamond, who has served as a JLGB volunteer for the last 35 years, was recognised in the 2021 New Year's Honours List and awarded an MBE for services to Young People which she was presented with today by the Princess Royal (Princess Anne) at Windsor Castle.
Linda joined the JLGB as a young member over 40 years ago and went on to become an adult volunteer in 1985. Since then, Linda's passion and dedication as a volunteer, and particularly as the leader of the JLGB Redbridge band, has had an immeasurable impact on thousands of young people. Her three children also played in the band, and as adults, all are current volunteers for JLGB groups around the country.
As the group leader of JLGB's Redbridge Band, Linda has inspired thousands of young musicians to grow in confidence, develop their skills and pursue their ambitions. She has also empowered and mobilised so many other JLGB volunteers to make a difference in many national and regional roles, including the roles of Essex regional volunteer manager and as the national bands officer, responsible for running many musical development weekends, remembrance parades and national camps.
In recent years, Linda has also worked for JLGB's professional team as Senior Membership Administrator, supporting JLGB local groups across England, Scotland and Wales, whilst also helping to coordinate international JLGB programmes that have brought hundreds of young people together from across the UK, Israel, Russia and France.
Speaking following the announcement, JLGB Chief Executive Neil Martin OBE said:
"Linda is a cherished JLGB volunteer and staff member, who is loved and respected in equal measure across our organisation. There can be no more uplifting way to mark the end of this extremely challenging year than Linda being awarded an MBE. I say this not just as JLGB Chief Executive, but as one of the many musicians Linda has inspired – she was my first ever JLGB leader when I was a teenager. Linda really is one of a kind and her care and dedication has shaped the lives of countless young people, in Redbridge and beyond. It is an absolute delight to everyone in JLGB that her unparalleled service has been recognised in this way."
Wes Streeting, MP for Ilford North, was one of many people who wrote in support of Linda's nomination, including parents, volunteers and JLGB staff and community leaders who have been fortunate enough to know and work with Linda.
Speaking following the announcement, Linda Diamond MBE said:
"I feel very humbled and overwhelmed. I have never wanted recognition but wanted to give young people the opportunity to be involved in an amazing organisation that gave me so much during my teenage years and to ensure my own kids had the same experiences. There is nothing more rewarding that seeing young people have fun, build friendships, develop their skills and confidence, and grow into the next generation of leaders. I work with some amazing, dedicated volunteers without whom I could not have continued for so long and who also deserve thanks."
Be yourself. 
Be your best self.
For over 125 years, young Jewish people have been discovering just how brilliant they can be and how they can make the world a better place through JLGB. Whether you're 8 or 18, whatever you want to be, join in and be your best self with us!