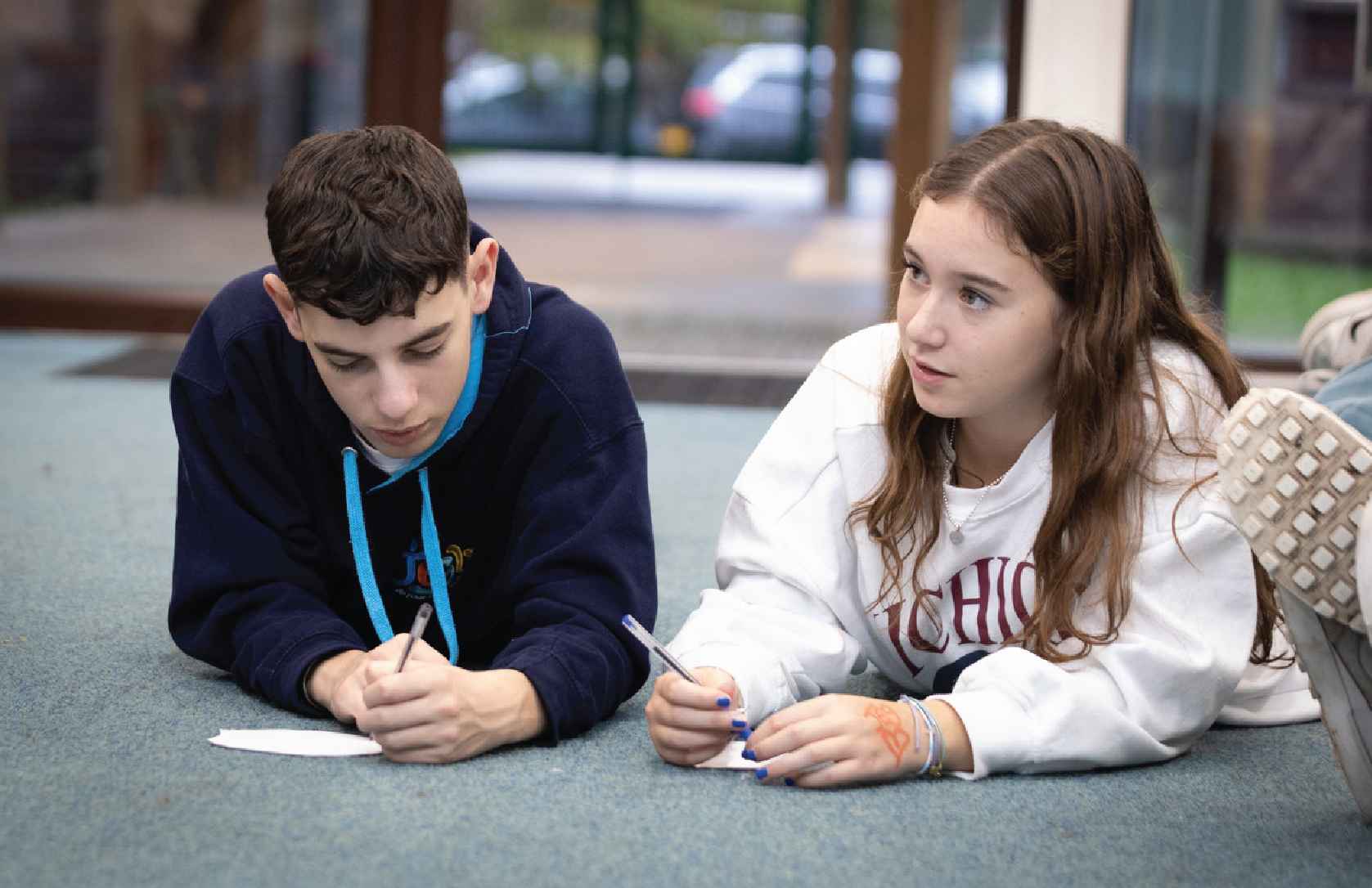 Youth Leadership Development Weekends
There is one leadership development weekend coming up that will take our young leaders to the next level:
26th - 28th January 2024.
JLGB are committed to ensuring young people are empowered with transferable skills that will serve them for life. Anyone over the age of 14 is encouraged to join an accredited leadership development weekend to gain qualifications and enhance skills that will support them in life outside JLGB, in modules such as teamwork, communication, and planning.
The weekend includes a programme of exciting training sessions that have been designed to impart a mixture of theory and practical skills, so that participants can return to their local JLGB group and put their new skills into action. All of this is achieved while socialising with friends, old and new, from all over the UK, within a fun Jewish atmosphere.
Not only do these weekends provide practical experience to give participants the skills they need to thrive in every area of their life but also accredit them in Open College Network (OCN) modules so that their achievement is recognised nationally, making them more desirable candidates for universities and jobs.
Through OCN, JLGB accredits young people in a wide variety of high quality courses, encouraging them to become active leaders. While the most popular courses focus on teamwork and leadership, the courses range from organisation skills and awareness of inclusion and disability, to maintaining a healthy lifestyle and how to mentor. These courses are delivered in a positive and engaging environment outside of the classroom that enables young people to enjoy their learning by actively pursuing their individual interests.  
JLGB prides itself on the sheer calibre of our leaders and strive for nothing less than the highest standard of leadership so that every young person is given the support they need to grow into an active citizen. For this reason, we are dedicated to training and developing young people from a young age. Many of the members who grew up immersed in JLGB programmes in turn become inspirational leaders for the next generation.
There is one leadership development weekend coming up that will take our young leaders to the next level:
26th - 28th January 2024.
These weekends are for those in years 10, 11, 12 and 13 and is run by a group of JLGB volunteers with the support of HQ for resources
The price for the weekend is £75 for those that have paid for an annual JLGB membership OR £100 for any other participant.
About JLGB
The JLGB strives to help develop a society that values Jewish young people and their contributions to their local and wider communities. JLGB aims to make every effort to train, develop and support Jewish young people through their transition from young person to adult to become active citizens in society. JLGB offers essential life skills and experiences to help young Jewish people transition from empowered youth to engaged young adult. JLGB believe in young people not only as leaders of tomorrow, but as a powerful force for positive change in society today. By removing faith barriers to participation in a fun, flexible yet safe, structured environment, JLGB ensures and enables each Jewish person to reach their future potential. 
For more information on JLGB Camps, weekly groups and awards, visit www.JLGB.org, email hello@jlgb.org or call 020 8989 8990.