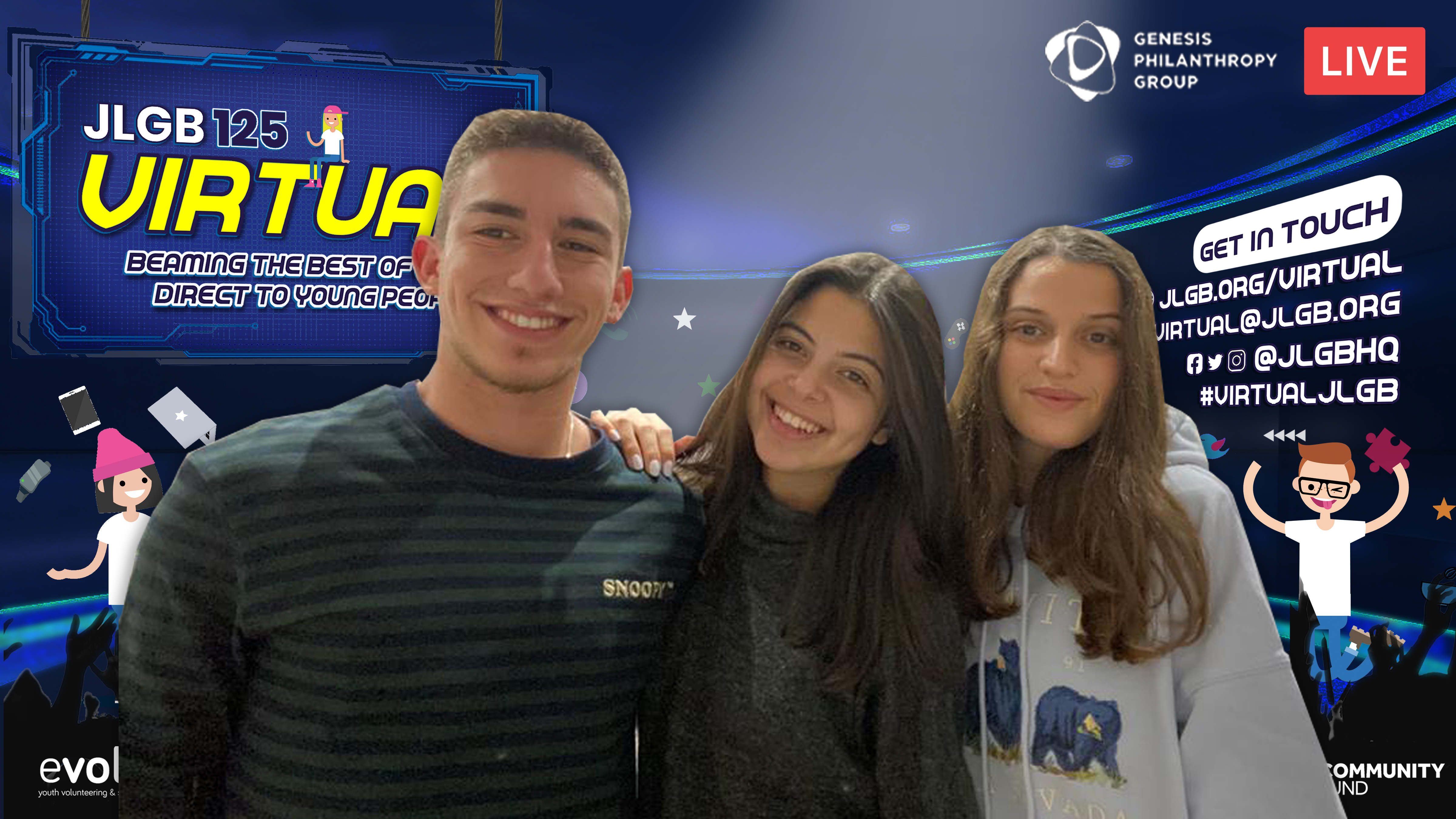 This year, as part of the Jewish Agency programme, JLGB are delighted to welcome three new young Israeli emissaries to join the JLGB team. These bright and talented young adults have been chosen from hundreds of applicants and are of the highest calibre, chosen to work with us in particular due to their exemplary youth work experience. They will be invaluable to JLGB and the work we are doing, particularly with JLGB Virtual, during these difficult times.   
Tomer, Noam and Maayan are rising to the challenge, and are sure to bring new dimensions to all the exciting developments happening within JLGB in our 125th year. They are really looking forward to being part of the success of JLGB Virtual, delivering regular sessions to young people across the country, and hope to visit a town near you when it is safe to do so. 
These incredible young adults have already contributed so much to society in Israel and are now here to spread their love and joy with us in the UK. During the first lockdown in Israel, Tomer learnt cooking skills, such as how to make real Yemenite Jahnun! Whilst Noam organised a large number of teenagers to volunteer for the elderly in her city, and Maayan volunteered in a day camp for children whose parents were unable to be at home.  
Tomer is passionate about singing and theatre, working hard to put on a theatre production in his high school earlier this year! He has described his passion as having "performed and sang from a very young age - some say that I started even before learning to talk!" Tomer has also volunteered for a long time with the Israeli Scouts. He has taken on different roles working with young people and teens with special needs, describing volunteering as a very big part of his life.  
Learning to love sports over Zoom during lockdown, Noam has always been a great lover of dance and the outdoors. A keen hiker, she is excited to hopefully travel around the UK and join DofE expeditions as part of her role with us at JLGB! Noam believes that volunteering is valuable as the world is built on connections between people and sees greatness in people making small contributions to one another.  
Maayan is also a dancer and the queen of creativity. She loves to draw, sew, embroider, and has been learning how to make denim jeans and jackets over lockdown. She sees volunteering as important "because when you give from yourself to the other people around you, you actually receive much more, also when you volunteer you enrich your skills and open up your mind to new things." 
They are here to teach and be taught by our young people, hoping to share their knowledge and learn about new cultures and people. We're so fortunate to have three such amazing Shinshinim this year thanks to UJIA, following in the footsteps of last year's incredible Amit, Tomer and Amit. We can't wait for you to meet them and to see what they bring to JLGB.  
JOIN US IN WELCOMING TOMER, NOAM AND MAAYAN AS THEY DELIVER THEIR FIRST ACTIVITY ON JLGB VIRTUAL THIS THURSDAY 1ST OCTOBER AT 6.30PM VIA WWW.JLGB.ORG/VIRTUAL  
Be yourself. 
Be your best self.
For over 125 years, young Jewish people have been discovering just how brilliant they can be and how they can make the world a better place through JLGB. Whether you're 8 or 18, whatever you want to be, join in and be your best self with us!