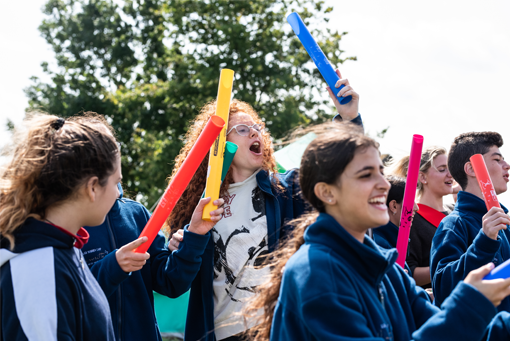 Hundreds of Youngsters Experience a Fantastical Adventure on JLGB Summer Camp
Over 500 young people from Jewish communities from around the world came together for another action-packed week of fun activities, adventure and learning. JLGB's Summer Camp was held in Colchester, Essex from the 28 July until 4 August. The camp was enjoyed by young Jews from across the UK, Russia, France, and Israel.
The theme of this year's camp was 'Unwritten', with its activities designed to allow the young participants to explore their 'never-ending stories' through adventurous challenges such as rock climbing, zip wire, archery, kit car racing and high ropes. Formed into teams, participants were also able to develop their teamwork skills through a variety of activities including coding, first aid, cookery, debate, music and arts and crafts. Each day they competed to win points for their teams, with the ultimate champions being announced at the closing awards ceremony.
Evening productions were packed every night with a whole host of special guest stars, including the return of former X Factor contestant, Luena Martinez, who even joined the judging panel for the talent contest in which the camp's participants took part. Other evening entertainment included a journey through the Land of Oz as well as an immersive Shrek-themed secret cinema.
It was a truly international week where Jewish young people from across the world learned about and explored each other's different cultural identities, and connected as one global family through their shared Jewish identity.
In celebration of JLGB's 125th anniversary next year, the aim is to have a Summer Camp of over 800. Meanwhile, plans are now underway for a spectacular 'Infinity2020' themed Winter Camp 19/20, which will take place over New Year's Eve from the 27 December to 1 January. For more information, please visit www.jlgb.org/wintercamp.
Reflecting on the week, Camp Director Lee Sidney said:
'Camp has been the most fantastic 8 days of fun and adventure where young people explored their personal stories and filled in some of the blank pages of their future. Young Jewish people from across the world have come together on Summer Camp not only to have fun and make new friends, but also to contribute to wider society through social action projects organised in conjunction with Mitzvah Day, including a collection of toys and games for Tikva Orphanage in Odessa in Ukraine. I am so proud of our young leaders who dedicate so much of their time to the organisation and am thankful to them all for helping me to run this incredible Summer Camp.'
Describing her experience, participant Maya, aged 14, from Liverpool said:
'I think Summer Camp has been a really good opportunity for me to step out of my comfort zone and meet new people that I wouldn't have necessarily come across in my everyday life. It has opened me up to loads of new skills and I've really enjoyed making new friends from different cultures. I am looking forward to JLGB Winter Camp.'
Describing his experience, participant Fraser, aged 12, from Borehamwood said:
'Summer Camp has given me the chance to experience loads of new things and ideas and meet new people from all around the world. JLGB's Winter and Summer camps have lots of fun and exciting activities, with different and new ideas every time.'
For more information on JLGB Camps and all our weekly activities across the UK, email getinvolved@jlgb.org or call JLGB HQ on 020 8989 8990.
To see more pictures on the Facebook page click here.
For all press enquiries, please contact Ellie Pendred on ellie.pendred@jlgb.org