Community Unites to Harness the Collective Impact of Young Volunteers
JLGB organise largest conversation on Jewish Youth Volunteering in a Generation thanks to GPG
Central Hall, Westminster was the place to be on Wednesday 23rd January, as charity CEOs, headteachers, rabbis, youth directors, civil servants, awarding bodies, young people and grant funders were amongst the 150 delegates who gathered together to harness the collective power of young Jewish volunteers.
The event marks the start of an ambitious project, funded by Genesis Philanthropy Group (GPG), to engage thousands more young people in social action through JLGB's evolve young volunteering & skills initiative
Thanks to the support of Genesis Philanthropy Group, JLGB's 'Harnessing the Power of Youth Volunteering' workshop brought together key stakeholders from across the community to ensure that youth social action becomes more accessible, rewarding and meaningful for Jewish young people than ever before.
Wednesday's event at Central Hall, Westminster, was organised to inspire charities, schools, synagogues and youth groups to fully engage and support young Jewish volunteers so that they can address society's biggest challenges. The event saw an expert Q&A panel hosted by JLGB young leader and Chair of JLGB's 'The Voice' youth forum, Josh Collins with panellists Charlotte Hill, Chief Executive of Step Up to Serve, Kate Goldberg, Chief Executive of the Maurice Wohl Charitable Foundation and Miriam Benchetrit, UK Consultant, Genesis Philanthropy Group.
Interactive workshops focused on safeguarding young volunteers, creating inclusive opportunities for those with disabilities, engaging parents in their children's volunteering, and measuring the individual and collective community impact of volunteering through the evolve platform. Best practice in these areas will cascade throughout the community, expanding JLGB's ground-breaking evolve youth volunteering and skills initiative.
This expansion of the evolve initiative will see the creation of a mobile evolve app, a more functional online platform and the launch of national volunteering awards tailored to the needs of young Jewish people.
GPG's support for this ambitious project provides a huge boost for JLGB as the organisation seeks to engage thousands more young people in volunteering, through faith friendly versions of national achievement awards specifically tailored to the needs of Jewish young people.
Neil Martin OBE, Chief Executive of JLGB said:
"450,000 hours, that's the combined number of hours young Jewish volunteers taking part in evolve volunteering awards have to contribute to their local communities and wider society. Thanks to GPG we brought together over 150 of the key stakeholders in our community to unite them in the vital cause of harnessing this potential power of young volunteers and making their hours truly count. By all of us working together we could achieve large-scale change through the collective impact of thousands of young Jewish volunteers and ensure the future sustainably of our community."
To successfully engage thousands more young volunteers, GPG is supporting JLGB to expand its professional evolve team to deliver a suite of age-progressive, faith-sensitive versions of nationally recognised volunteering awards in Jewish secondary schools. Completing these awards through evolve means that young people can find youth friendly volunteering opportunities in their local community that match their individual skills and interests to much needed placements designed to make a real and direct difference to charity beneficiaries and causes. Through evolve, young people can complete the Yoni Jesner Award (school year 7-8), National Citizen Service (school years 11-12) as well as being able to find placements for the volunteering sections of their Duke of Edinburgh's Award (from school year 9).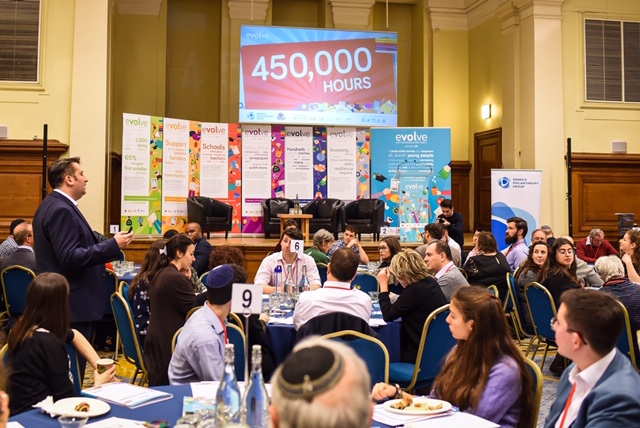 Ilia Salita, the President and CEO of GPG, said:
"GPG is delighted to support the growth and expansion of JLGB's pioneering evolve initiative for young people from across the community who are motivated to make a positive difference through volunteering. Our partnership with JLGB will engage even more young people with meaningful opportunities for personal growth and fulfilment. From our work internationally, we know that social action and volunteering are uniquely powerful in connecting young people with Jewish values and we look forward to seeing the impact of this important project".
evolve is JLGB's response to the ever-changing needs of young Jewish volunteers. evolve creates a coherent, age progressive and streamlined framework for volunteering and accredited training that embraces all Jewish young people to enable and equip them to fully engage in meaningful training, volunteering and citizenship throughout their school years and onto student life.
The backbone of evolve is a digital platform that streamlines the way young people can be matched to placements and record their volunteer experience. evolve is unique because it aligns volunteering and social action projects to national achievement awards and key stakeholders from across the youth, voluntary, community and education sectors so that youth volunteering and its's impact can be managed and measured online in one place.
In addition, plans are now underway by JLGB and a committee of young volunteers to organise a huge youth social action celebration that showcases and rewards the amazing achievements of young Jewish volunteers to be held in September/October 2019.
Wednesday's interactive workshop also saw a special presentation to the Maurice Wohl Charitable Foundation, the founding funder of evolve, which was first piloted in 2014. As well as the launch of JLGB's #iwill Fund (part of the Big Lottery) project, made possible through match funding partners, including GPG.
To find out more about evolve and to create your personal profile so you can start matching to opportunities and begin logging volunteering hours towards awards, visit www.jlgb.org/evolve
For all press enquiries contact JLGB's Director of Communications - Ellie.Pendred@jlgb.org or 07804 605162
About Genesis Philanthropy Group
Genesis Philanthropy Group (GPG) is a global proactive grant-making institution co-founded by Mikhail Fridman, an international businessman, investor and philanthropist, and his business partners. GPG focuses its philanthropic support on developing and enhancing Jewish identity, primarily but not exclusively among Russian-speaking Jews worldwide. To learn more, visit www.gpg.org.