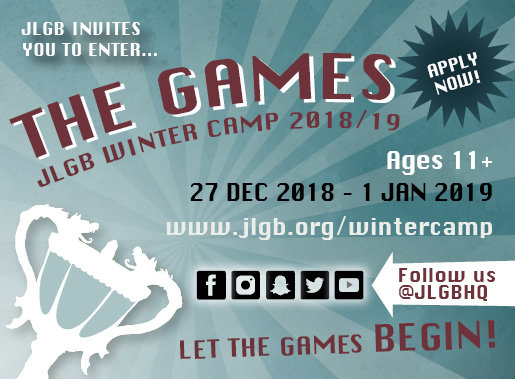 Get Ready for a New Year's Eve Spectacular
at 'The Games' Winter Camp
Hundreds Prepare for 'The Games' Winter Camp New Year's Eve Extravaganza
With less than a month to go until this year's 'The Games' themed Winter Camp and over 200 people signed up, excitement is building. Winter Camp runs over New Year's Eve, so expect an unforgettable night!
With unique and exciting activities every day and a spectacular show every evening, there is only one place to bid farewell to 2018! Join JLGB in taking on The Games with friends old and new from all over the UK. Through a-GAMES-ing activities that will put your mental, physical and teamwork skills to the test, a packed activity schedule during the day will ensure you collect enough special crystals to start 2019 with a bang!
You'll get lost in our fantastic evening productions and shows that give you the opportunity to be a part of inspirational performances, TV game shows, and team battles across the whole site, and of course be a VIP guest as you welcome 2019 in style. Compete as a teams, complete challenges, collect crystals and escape the Games!
The camp will bring together young people from across the UK, including London, Manchester, Leeds, Liverpool, Cardiff and Glasgow and is open to both JLGB members and non-members. JLGB is proud to have united friends across the country for over 120 years and helped to create lifelong friendships.
Open to all in school years 7-11 (aged 11-16), the camp runs from 27 December to 1 January. You can be sure to expect your physical and mental abilities to be taken to the extreme in a wild week of adventure as you brave the Games. Tackle a series of dynamic challenges that puzzle and delight as spirits soar throughout the camp culminating in a proven highlight of every Winter Camp, the New Year's Eve extravaganza!
The cost of Winter Camp is £399, but our Chanukah offer, using the code: 'CHANUKAH18'gives you an a-GAMES-ing £20 off! Sign up at www.jlgb.org/wintercamp before midnight on Tuesday 19th December to use this code. This price includes the cost of activities, accommodation, food and transport.
Please don't let cost be the reason your child doesn't attend Winter Camp. If there are any difficulties with regards to payment, please speak to Estele Miller at JLGB HQ by emailing estele.miller@jlgb.org or calling 020 8989 8990 - in the strictest of confidence.
Make your escape this winter on JLGB's 'The Games' Camp. Dare to enter? Visit www.jlgb.org/wintercamp to SIGN UP NOW or call 020 8989 8990 for more information.