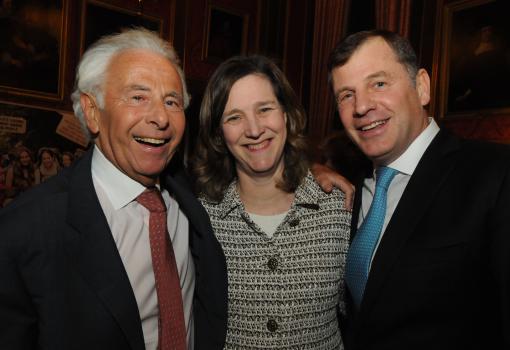 Join Lord Levy
Become a Patron and Support JLGB Today
The JLGB are actively seeking new Patrons to join one of the most forward-thinking youth organisations in the UK. The JLGB relies on its Patrons for our long-term support and to secure our future.
We remain immeasurably grateful to all our Patrons led by our president The Lord Levy, for their on-going interest and commitment to what we do and what we are trying to achieve.
JLGB Patrons are major donors (over £5,000 per year) who make regular and substantial contributions to our work. Some donations are general but some are focused on specific projects and we are lucky that many of our Patrons are involved with the JLGB in other ways, including as trustees or vice-presidents so they are best placed to gauge how their money is benefitting us.
We never rest on our laurels. We are constantly looking for ways in which we can improve the services and provisions we offer to young Jewish people and with your patronage, that's precisely what we do.
This year, a special Patrons dinner was held to raise money for Youth social action, kindly hosted by the Speaker of the House, John Bercow MP in the State Rooms at Speaker's House, an intimate evening with The Speaker and The Lord Levy, JLGB President and Patron.
During the dinner JLGB President and Patron, The Lord Levy said:
"JLGB is truly our community's Cinderella organisation, quietly getting on with the job of supporting tens of thousands of youngsters for over 120 years."
The evening is a great opportunity to hear first-hand from young JLGB members and leaders about their experiences within the organisation and the impact their involvement has had on them.
Speaking on the night, JLGB Youth Trustee, Jordana Price said:
"What I love about JLGB as an organisation is that young people are not stereotyped, everyone has different interests and come from a range of backgrounds. We are from all parts of the country, with various social backgrounds and span the entire spectrum of the Jewish. JLGB is about identity, it creates a platform for shared values through fun, friendship, achievement and Jewish peoplehood. It encourages everyone to be the best possible version of themselves, and seeks to promote diversity and inclusion for all, supporting many young people with various physical and learning disabilities. Having an organisation that is inspiring and empowering young people towards a brighter tomorrow is more essential than ever before".
Today's Jewish young people have the energy and enthusiasm to shape and change their world in innovative and exciting ways that simply weren't possible in previous generations. Thanks to the support of our Patrons, the JLGB are now able to make vital in-roads into the grass roots of the community, helping to create new models for sustainable and targeted positive youth provision for all.
JLGB is privileged to have many Patrons, to find out who they are and how you can become one too, visit www.jlgb.org/patrons
You can donate online now, and help to ensure a positive future for Jewish youth. Please visit www.jlgb.org/donate