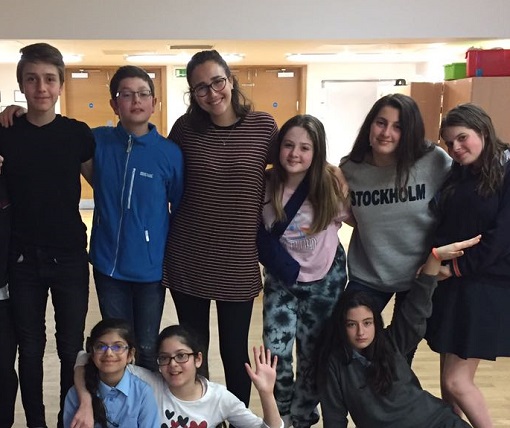 Guest Blog - Yom Hazikaron with JLGB Shinshinit Shir Talmor
Yom Hazikaron is the Israeli National Memorial Day where the country comes together to commemorate the fallen soldiers and victims of terror.
As an Israeli, Yom Hazikaron is a very special day for me, especially this year since it's my first time away from home, while I'm here for a year of service with JLGB in the UK. It's a time when all of Israel is united, remembering and mourning over our loved ones who lost their lives keeping Israel safe. Commemorating this day away from home, family and friends is not easy, because of this I thought a lot about how I can bring the importance and emotion of this day to the young members of JLGB.
I decided, alongside Asmara Tagania, my partner Shinshin at JLGB, to write a session, telling our personal stories, feelings and thoughts about this important day.
I spent every evening last week travelling all across London visiting JLGB groups in Bushey, Redbridge, Hasmonean Girls, Mill Hill, Borehamwood, Woodford and Edgware & Radlett to deliver this session. I felt very lucky to meet the exceptional volunteer leaders that run the JLGB weekly groups who found the time to help me run this session in between all the fantastic activities they run on a weekly basis as part of JLGB's Enterprise and Bright Spark Awards. In the sessions we watched videos that captured what Israel looks like on Yom Hazikaron, we discussed why Israeli Independence Day is celebrated the day immediately after Yom Hazikaron, and shared our feelings on being just a few years younger than the soldiers in Israel. One of the most important things that happens in Israel during this time is the siren sounding across the country and everyone stops what they are doing for a whole minute to be silent for those who sacrificed their lives.
Throughout my week visiting the JLGB groups I had a wonderful time and was amazed at the positive participation of the young people. I was surprised at the insightful conversations about Israel happening between JLGB's members and leaders, even though they have never lived in Israel. It was very special for me to see the JLGB members appreciate the importance of this day in Israel. I can't wait to visit more of the weekly groups, including Liverpool in the coming weeks, to see what else the members can teach me! I was nervous about my first Yom Hazikaron away from home but through this project I experienced a truly meaningful Yom Hazikaron. I really felt that I was fulfilling my role as Israeli emissary and connecting JLGB in London to Israel. For this reason I'm happy to say that it was one of my favourite weeks this year so far!
I couldn't ask for a better way to make this day more special for me and for the members of JLGB.
Thank you so much to everyone who helped me to make this happen.