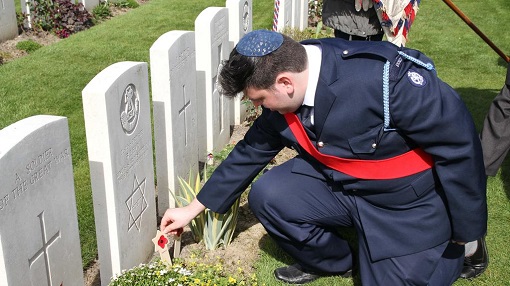 We Need You! JLGB in Race to Save War Records of its Fallen Soldiers
JLGB, based in South Woodford, are looking for volunteers to research the stories of soldiers who lost their lives in the First World War. An incredible 535 JLGB (formerly JLB) members joined the army to fight for King and country during the war and there is now a race against time to save their stories. Budding historians, those looking for research experience or anyone with an interest in making sure that these remarkable stories are not lost are encouraged to get in touch. JLGB are working in
partnership with 'We Were There Too', a heritage lottery funded project that aims to capture, record and preserve the impact, experience and contribution of London's Jewish communities during the First World War era.
From the research that has already been undertaken some incredible stories have come to light. Alex Davis recently made a fascinating discovery about two JLB brothers who both fought in the war: Harry Goldbaum, JLB member, lied about his age and was only 16 when he joined the Royal Engineers in 1914. In October 1915, a troop-carrying ship HMS 'Hythe' collided with another British ship off the coast of Gallipoli and sadly Harry died alongside 154 other men. His brother, Phillip, also a JLB member also joined up and died on the Western Front in July 1916.
In an effort to discover more about these inspirational men, JLGB volunteer Leader, Jack Sanders, aged 19, recently went on a We Were There Too trip to the battlefields in Ypres. Jack laid a poppy on the grave of JLB member, Samuel Barnett, during a moving commemoration. Samuel died in combat at Ypres Salient in August 1916 and is buried in Essex Farm Cemetery, Ypres.
It only takes about half an hour to research and document one record. This can either be done from the JLGB office or from home and full training will be given. Honour the sacrifice and bravery of the 535 JLB members by volunteering your time today.
For further information please call 0208 989 8990 or email volunteering@jlgb.org