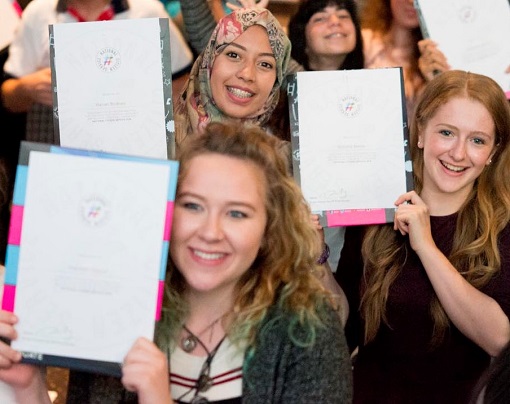 Our Graduates Speak! Why NCS with JLGB is Unmissable
Make sure you don't miss your chance to do NCS this summer! Kickstart your future with a summer you will never forget. You will meet new people, build confidence, create and deliver your own social action project, improve your CV and gain a whole new set of skills for life. What are you waiting for? Apply now by visiting our brand new site www.jlgb.org/ncs or for information call 020 3857 5905.
From the people that brought you Kosher DofE, comes a faith sensitive National Citizen Service (NCS). This government-backed programme helps young people build skills for work, life and the transition into adulthood. It invites young people to be the best they can, whatever their background and ambition. NCS aims to promote a more cohesive, responsible and engaged society by bringing young people from different backgrounds together to make a positive impact on their communities. In just three weeks you will sharpen your entrepreneurial skills by visiting expert companies and charities, refine your chosen skill, make lifelong friends and launch your very own social action project. That's why NCS is highly valued by employers, UCAS and the participants themselves. With JLGB, this is all available in a uniquely faith sensitive environment. Catering to kosher and halal diets, NCS powered by JLGB does not run on Shabbat and can accommodate single gender groups on request.
NCS has seven key principles that we have put to the test with our past NCS graduates. Here is what they said they LOVED about NCS with JLGB and how it helped them achieve new heights:
Meet incredible people from different backgrounds:
"NCS has been a life-changing experience for me; I have created friendships that I hope will last a lifetime" – Talia, NCS 2016 graduate.


Do exciting activities:
"Although I am scared of heights I thought that it would be a good chance to challenge myself. By doing loads of adventure activities I pushed myself to take part and found out I quite enjoyed myself." – Liora, NCS 2016 graduate.


Develop leadership skills:
"During the programme we have been trained how to coach sports, done lots of team bonding and learnt about social action. We are doing a 70km run to raise money for Sports4Life which helps young disadvantaged kids, it helps them to get jobs and teaches them social skills." - Alis, NCS 2016 graduate

"NCS has been an experience I can look back on for years to come. It has helped me learn skills I didn't know I could do" – Jade, NCS 2016 graduate.


Boost your CV and UCAS application:
"You will make new friends, it will boost your confidence and your CV. You'll have an amazing summer. Definitely worth it." - Liora, NCS 2016 graduate.


Gain the tools to pursue your passion:
"As young people we feel very passionate about the way people are treated and that everyone should be treated equally. Due to our strong beliefs we decided as a team to create a short film to change people's views on different stereotypes". - 'Directors Crew', the 2016 group whose participants focused on refining skills relevant to film development.


Practical workshops given by leading industry experts and charities:
"Film editing was taught to us by our instructor during our second week. He had experience in shooting music videos with wide angles and lots going on, as well as 'floating head' documentaries, the latter of which we used to develop our film." – Adam, NCS 2015 graduate.


Give back to your community:
"We went to a home and spent time with old people – [some] didn't have visitors for a while and putting a smile on their faces. One old lady was from India. Her family hadn't been to visit her but I spoke Urdu and we spoke together. That was really lovely – it made me cry." - Tejiri NCS 2012 graduate.
When asked what you would say to someone considering the programme, Tejiri said "I would say definitely do it. Don't hold back. Throw yourself in. The skills you learn, the people you meet those are friends for life. I'm still in touch with mine. That is the beginning of networking."
Start your journey and sign up to NCS with JLGB at www.jlgb.org/ncs or call 020 3857 5905 Visit our brand new site www.jlgb.org/ncs for more information.