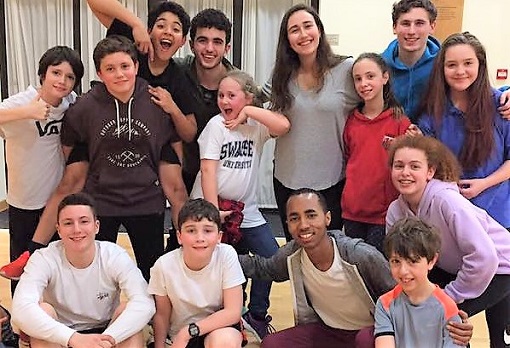 Cardiff JLGB Crowned National Group Competition Winners
Cardiff JLGB have been crowned the winners of JLGB's annual National Group Competition, taking home the highly prized Trophy. Following their win at the Provincial Group competition, Cardiff JLGB went up against Redbridge JLGB, winners of the London Group competition, and narrowly clinched victory in a points tally.
Held at King David High School in Liverpool, the Provincial competition saw people in attendance from JLGB groups from Birmingham, Cardiff, Manchester, Leeds, Liverpool, Newcastle and Nottingham. Hosts Liverpool JLGB took the runner up position. The day was fun packed with teams pitting their wits against each other in sports, quizzes, code breaking team challenges as well as the JLGB core skills competitions. Weekly groups spent the weeks in advance of the competition preparing and the day is a great opportunity for everyone to see their friends from across JLGB's provincial local groups.
The provincial competition win for Cardiff JLGB was extra special as it was the ninth year in a row that the weekly group have been victorious. It is also an impressive win from one of the most longstanding small Jewish communities and highlights how the JLGB national network acts as a vital lifeline for isolated young people who wouldn't otherwise get the chance to meet and make friends with hundreds of like-minded Jewish teenagers from other communities. JLGB are extremely proud of the fun activities, shared learning and social action that is taking place on a weekly basis within communities at all of our Provincial local groups across the UK.
Young and adult volunteers from across the country work together throughout the year to organise these weekly group competitions for young people to compete for the title of the best JLGB group.
Mike Salamon, Cardiff JLGB Group Leader said: "I am really proud of everyone involved in Cardiff JLGB for winning the Provincial competition for the ninth year running, especially our new members, for whom it was their first competition. The event is always a great opportunity for all involved to meet with old friends and make new ones and coming away with the trophy is the icing on the cake!"
Dan Schwartz, Cardiff JLGB Young Leader said: "I really enjoy the chance to compete against other JLGB groups where we all have many friends. I am really proud of everyone and so pleased to be part of an amazing group and organisation which has given me the opportunity to meet new friends."

Congratulating all the JLGB groups across the country on behalf of the organisers, Adam Shelley, said: "This is a fantastic achievement for Cardiff and they fully deserve the success. I congratulate the members, the staff and everyone in the Cardiff community who support JLGB."
For more information on any of these events please contact the JLGB office on 0300 123 2363 or email getinvolved@jlgb.org.