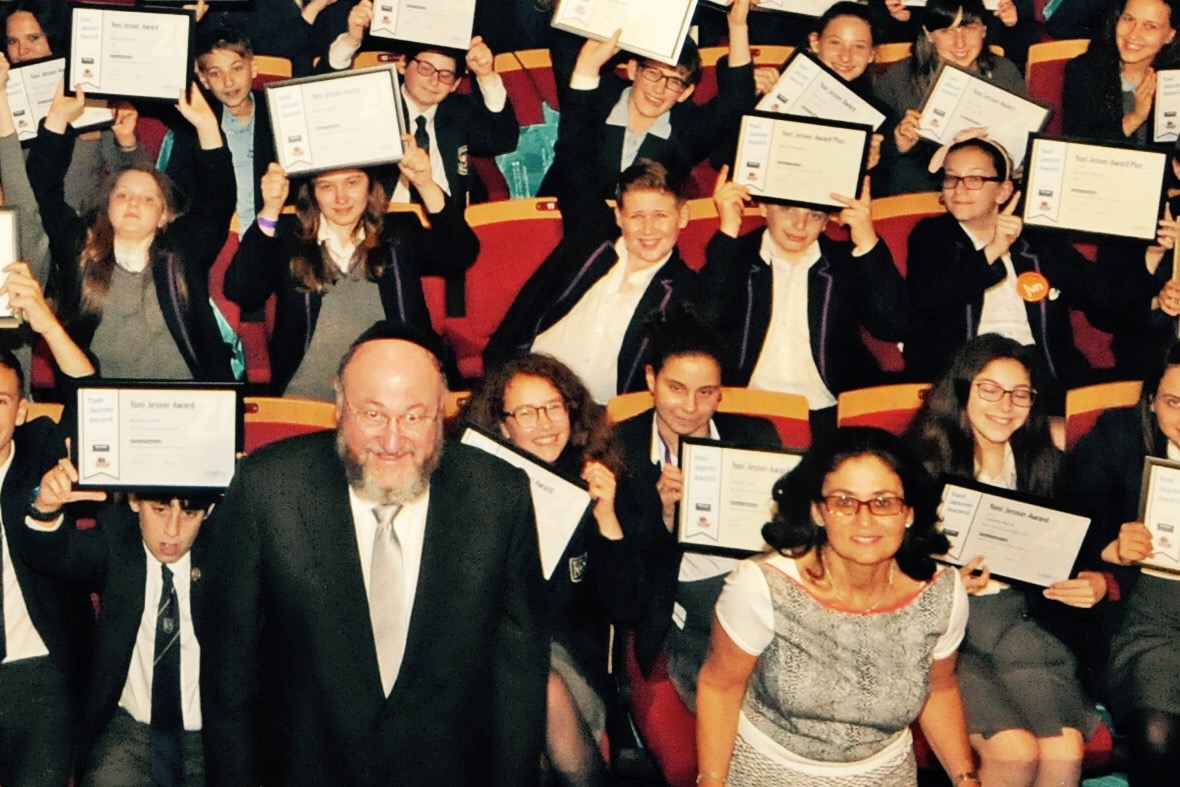 Chief Rabbi Congratulates 150 Yoni Award Winners
Chief Rabbi Ephraim Mirvis stood before a packed auditorium and told the crowd how humbled he was by the thousands of hours of good deeds collectively achieved by every winner of the Yoni Jesner Awards 2016; a volunteering scheme for school years 7-8 powered through JLGBs eVOLve initiative.
Since the launch of The Yoni Jesner Awards in 2014, 1,218 young people have taken part and clocked up a phenomenal 17,157 hours of volunteering for charities and good causes across Britain, with 17 schools and youth groups taking part nationally.
The scheme was set up by JLGB in partnership with The Yoni Jesner Foundation, in memory of Yoni Jesner, a passionate volunteer from Glasgow, who was tragically killed in a bus bomb in Tel Aviv, 2002, at 19 years of age.
Chief Rabbi Mirvis said:
"It is hard to believe that nearly 14 years have passed since Yoni Jesner was so tragically taken from us. And yet, this evening's awards clearly demonstrate the extent to which his legacy has become such an important part of the fabric of the Jewish community."
Marsha Gladstone, the mother of Yoni, who set up the Yoni Jesner Foundation, said:
"Nothing can bring Yoni back, but his life's work has been handed on to you now, and I hope you will continue after having achieved your first Yoni Jesner Award and continue Yoni's work into the years ahead."
Neil Martin, CEO of JLGB, said:
"I think these inspirational young people show our entire community the power of Yoni's values and that our future is safe in their hands. We look forward to supporting them on to the next challenge such as the Duke of Edinburgh's Award and thank the Yoni Jesner Foundation for their partnership, which keeps the memory of Yoni Jesner alive."
During the evening, Sam Clifford, Director of the foundation, announced this year's Yoni Jesner Scholar as Mia Gray. The award will enable the 18-year-old pupil from Fortismere School in Muswell Hill to spend a year in Israel, before heading to Birmingham University to study philosophy and classical civilisation.
Next year's Yoni Jesner Awards will launch after Sukkot and marks the start of the 15th anniversary year since Yoni's death. If you or your child is in school years 7 or 8, now is a great time to sign up at www.jlgb.org/yonijesner.