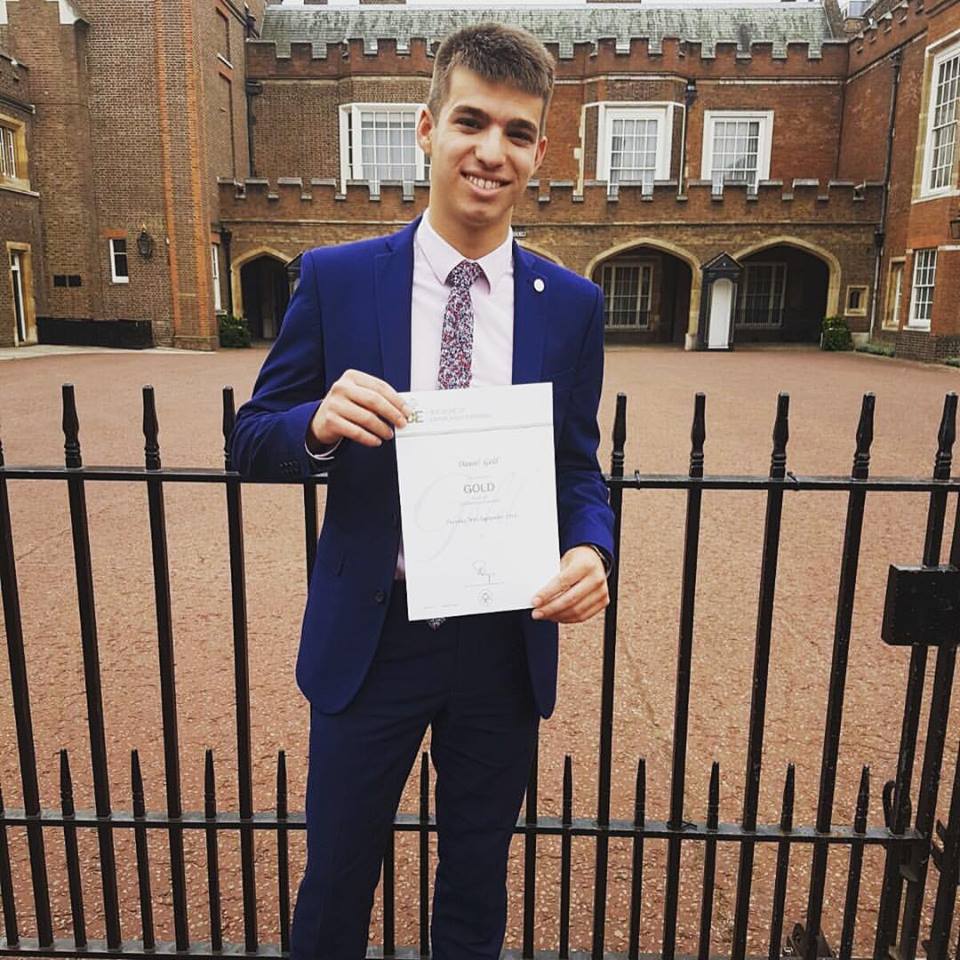 Going for Gold!
There was a gold rush at St James' Palace this September as 11 of the JLGB DofE participants collected their Gold Awards. We are immensely proud of Daniel Gold (pictured), Marcus Rodin, Anjali Janani, Jack Bernard, Daniel Solomon, Amy Hart, Jagriti Jyoti, Elisa Goldman, Jonathan Stimmler, Jayni Tank and Avital Prais on their fantastic achievements and we look forward to celebrating with the remainder of our Gold participants when they collect their awards at the palace next year.
It has been a record year with over 800 people signing up for Gold, Silver and Bronze DofE with JLGB which is extra special as this year marks the 60th anniversary since the Duke of Edinburgh first created the award. Over 50% of teenagers in Year 9 are doing their Bronze Award, a number which is expected to grow year on year. We are especially proud that we have increased our single gender groups for ultra-orthodox schools and Yeshivas, and adapted programmes for those with physical or learning disabilities.
Taking part in the DofE gives young people independence, a sense of achievement, self-confidence, leadership and teamwork skills and is highly regarded by universities and employers. It is often the first thing looked for on UCAS forms and CVs.
We are delighted that the 2017 DofE season has just launched to coincide with the new academic year, so look out for our DofE team who will be hosting assemblies at schools across the country this term. Thanks to the continued support of the Pears Foundation, this unique kosher and Shabbat friendly provision - directly delivered by JLGB to all Jewish secondary schools as well as synagogues, and youth and community groups across the country - ensures the entire Jewish community can take part in the DofE, the world's leading achievement award.
This year we expect to see a record number of people doing their Duke of Edinburgh Awards, so sign up now at www.jlgb.org/dofe.